Sylvester Stallone starring Rocky won the academy awards for The Best Picture, Best Direction, and Best Film Editing. It's a story of a newbie boxer
Sylvester Stallone starring Rocky won the academy awards for The Best Picture, Best Direction, and Best Film Editing. It's a story of a newbie boxer who got the chance to fight heavyweight boxing champion Apollo Creed. Rocky's friends or partners tell him that it's impossible to beat Apollo creed. Sylvester Stallone wrote the story and script for Rocky. Rocky's struggle, training, and motivation to beat Apollo Creed made this movie energetic, but then…
Rocky 2, Rocky 3, Rocky 4, Rocky 5, all move with the same plot line. There's a tough fighter in the movie, Rocky first avoids fighting (different reasons in different parts), then something happens which triggers Rocky for the fight and everybody tells him that it impossible to win, and then he prepares himself for the fight and the fight takes place at the end of the movie.
Rocky Movie Quotes
Rocky movie quotes charge you from the inside. If you are feeling a little low today, read on to the quotes to get charged up! Life is like Boxing!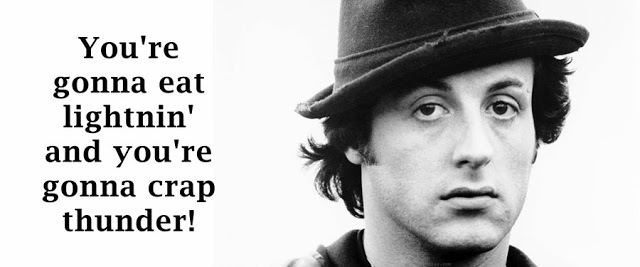 You're
gonna eat lightnin' and you're gonna crap thunder!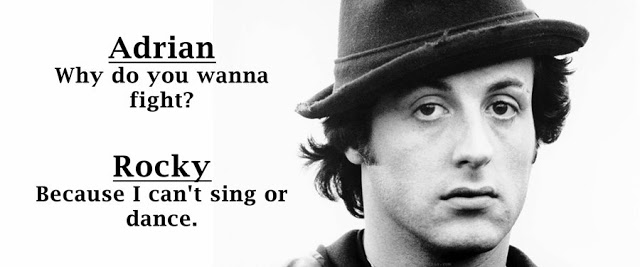 Adrian: Why do you wanna fight?
Rocky: Because I can't sing or dance.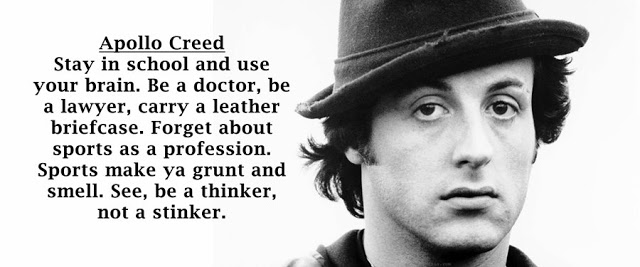 Apollo Creed: Stay in school and use your brain. Be a doctor, be a lawyer, carry a leather briefcase. Forget about sports as a profession. Sports make ya grunt and smell. See, be a thinker, not a stinker.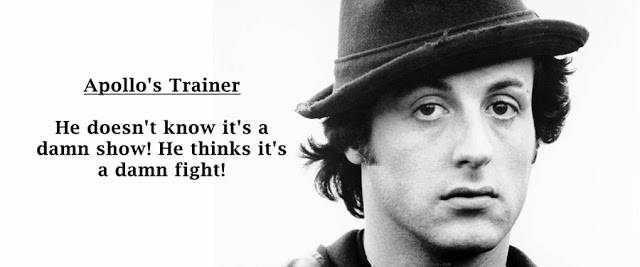 Apollo's Trainer: He doesn't know it's a damn show! He thinks it's a damn fight!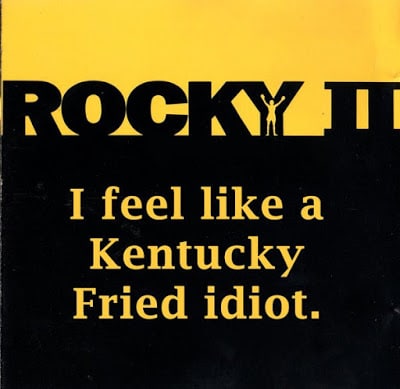 Rocky Balboa: I feel like a Kentucky Fried idiot.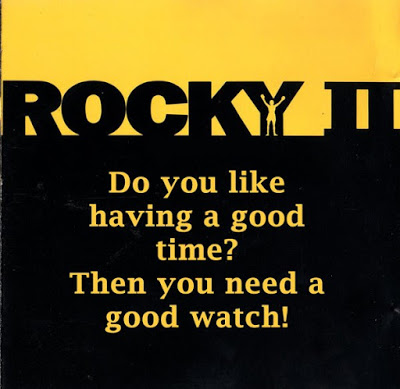 Rocky Balboa: Do you like having a good time? Then you need a good watch!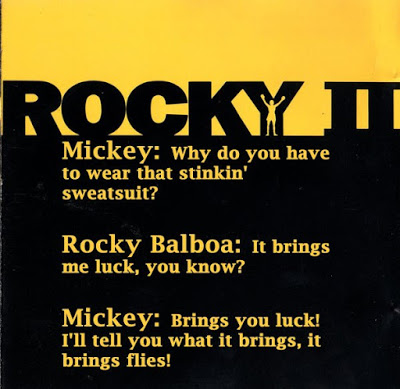 Mickey: Why do you have to wear that stinkin' sweatsuit?
Rocky Balboa: It brings me luck, you know?
Mickey: Brings you luck! I'll tell you what it brings, it brings flies!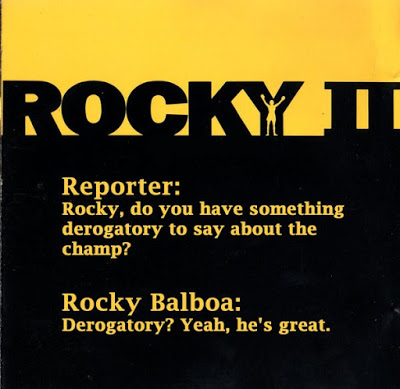 Reporter: Rocky, do you have something derogatory to say about the champ?
Rocky Balboa: Derogatory? Yeah, he's great.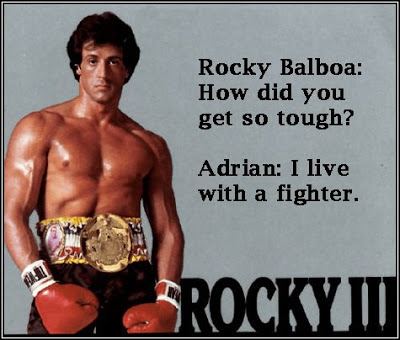 Rocky Balboa: How did you get so tough?
Adrian: I live with a fighter.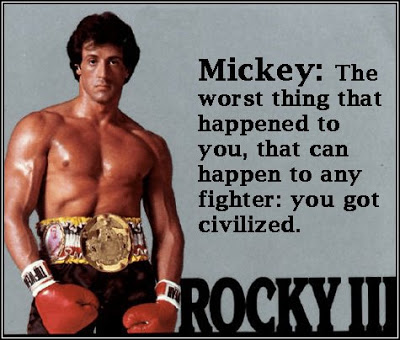 Mickey: The worst thing that happened to you, that can happen to any fighter: you got civilized.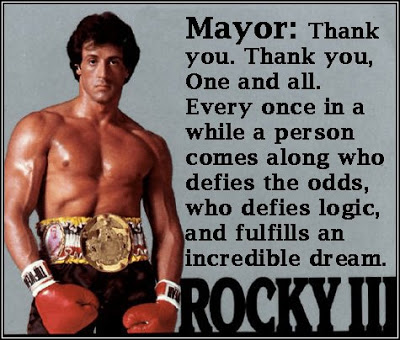 Mayor: Thank you. Thank you, One and all. Every once in a while a person comes along who defies the odds, who defies logic, and fulfills an incredible dream.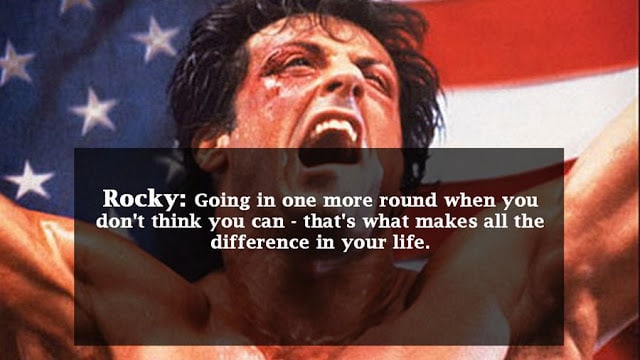 Rocky: Going in one
more round when you don't think you can – that's what makes all the difference
in your life.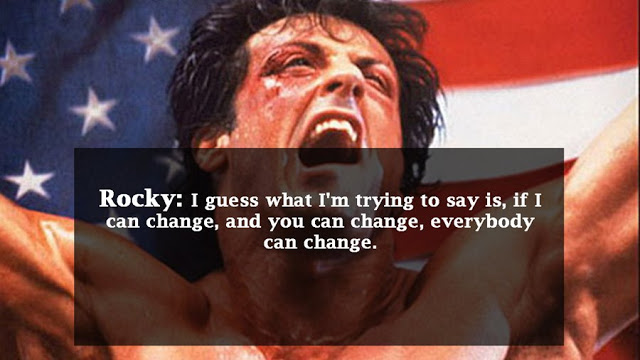 Rocky: I guess what I'm trying to say is, if I can change, and you can change, everybody can change.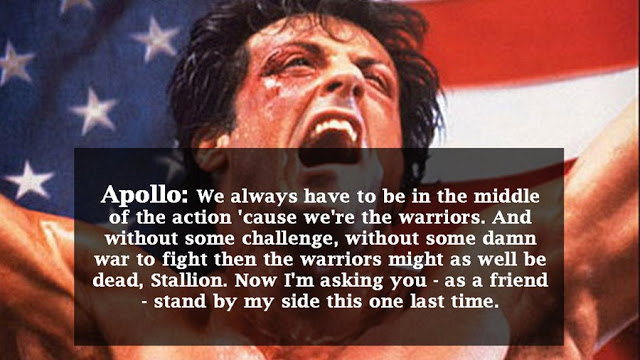 Apollo: We always have to be in the middle of the action 'cause we're the warriors. And without some challenge, without some damn war to fight then the warriors might as well be dead, Stallion. Now I'm asking you – as a friend – stand by my side this one last time.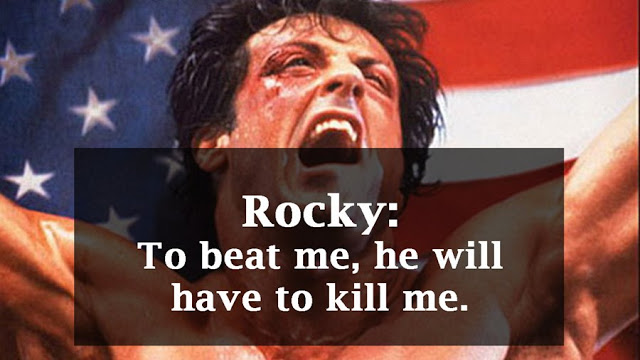 Rocky: To beat me, he will have to kill me.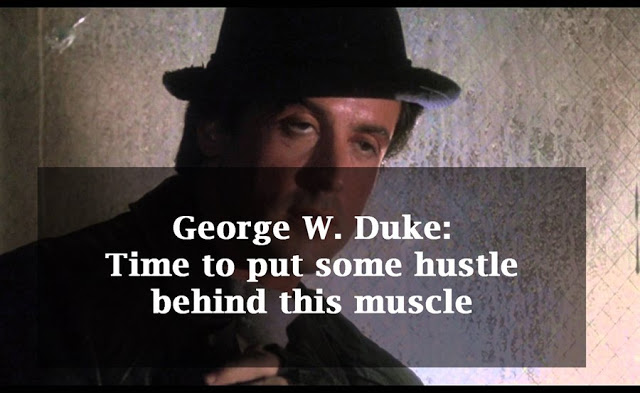 George W. Duke: Time to put some hustle behind this muscle.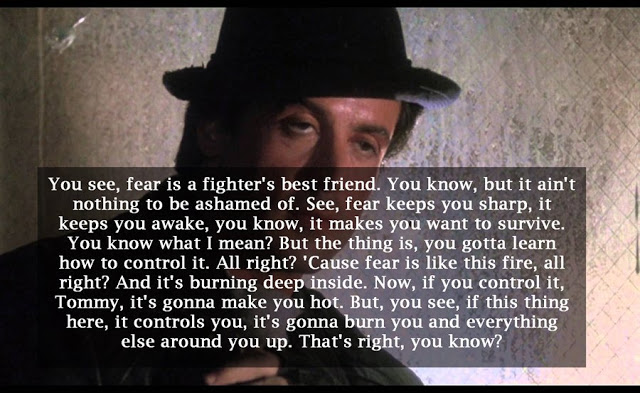 Rocky Balboa: You see, fear is a fighter's best friend. You know, but it ain't nothing to be ashamed of. See, fear keeps you sharp, it keeps you awake, you know, it makes you want to survive. You know what I mean? But the thing is, you gotta learn how to control it. All right? 'Cause fear is like this fire, all right? And it's burning deep inside. Now, if you control it, Tommy, it's gonna make you hot. But, you see, if this thing here, it controls you, it's gonna burn you and everything else around you up. That's right, you know?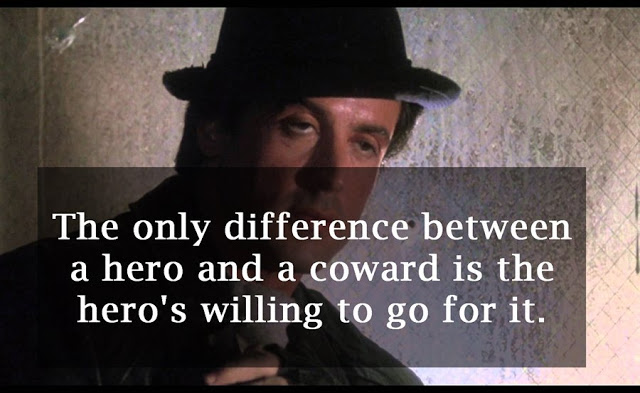 Rocky Balboa: Mick used to say the only difference between a hero and a coward is the hero's willing to go for it.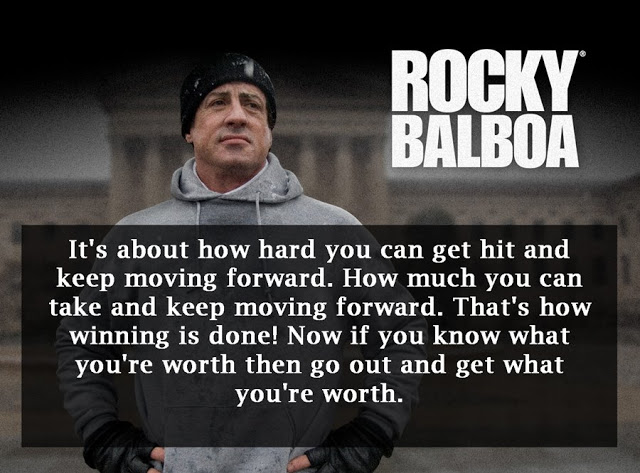 It's about how hard you can get hit and keep moving forward. How much you can take and keep moving forward. That's how winning is done! Now if you know what you're worth then go out and get what you're worth.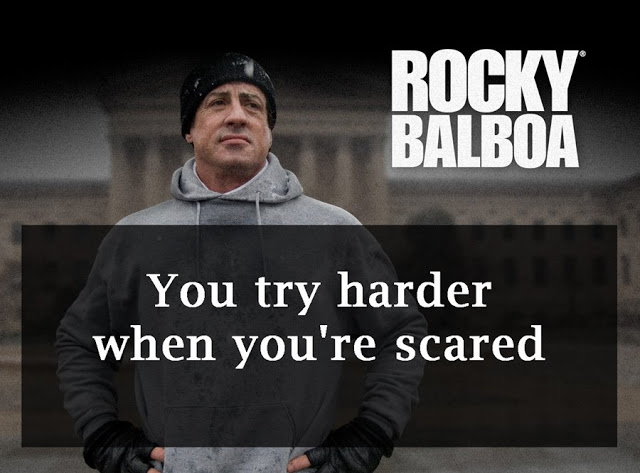 Rocky Balboa: [turns and walks away with his son] You know, I think you try harder when you're scared… That's when it's worked best for me.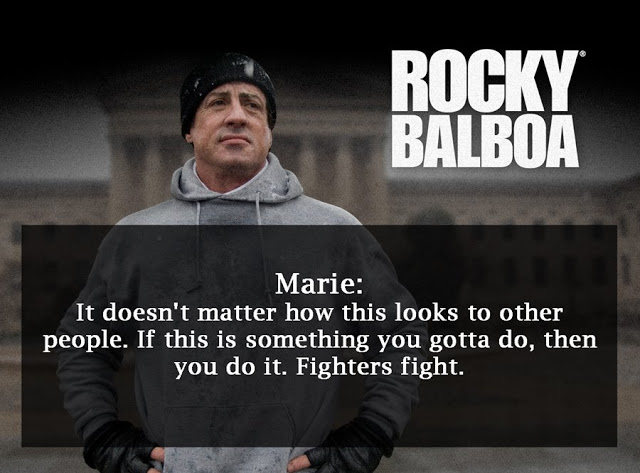 Marie: It doesn't matter how this looks to other people. If this is something you gotta do, then you do it. Fighters fight.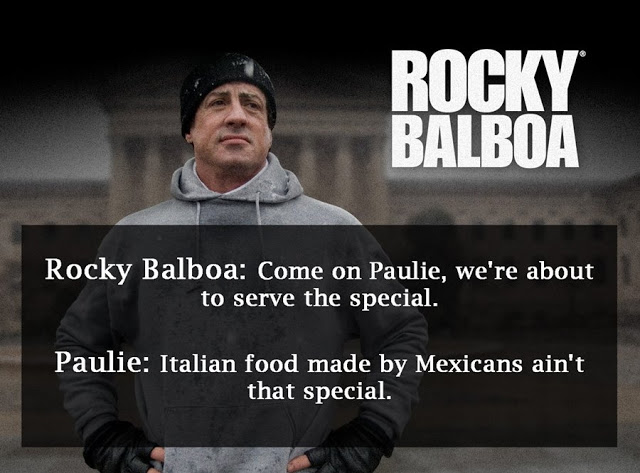 Rocky Balboa: Come on Paulie, we're about to serve the special.
Paulie: Italian food made by Mexicans ain't that special.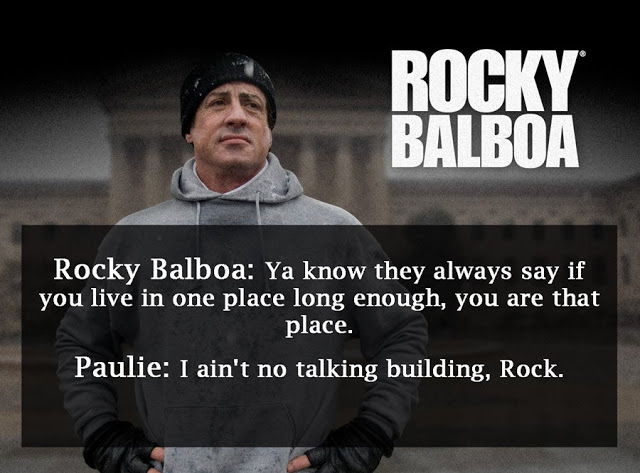 Rocky Balboa: Ya know they always say if you live in one place long enough, you are that place.
Paulie: I ain't no talking building, Rock.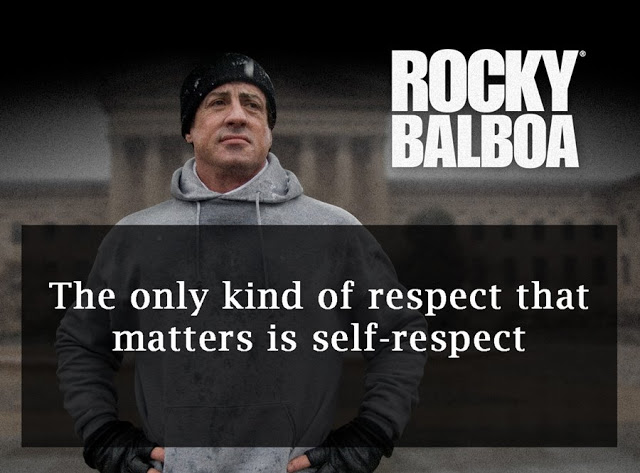 Martin: The only kind of respect that matters is self-respect