There are a few writers cum directors who made the world believe in them with just one or two films. We take Christopher Nolan for example with his Fo
There are a few writers cum directors who made the world believe in them with just one or two films. We take Christopher Nolan for example with his Following and then Memento. We take Quentin Tarantino with his Reservoir Dogs in 1992 and Pulp Fiction in 1994. What to say about Pulp fiction, the neo-noir black comedy nature of the film says it all. Both Christopher Nolan and Quentin Tarantino followed the nonlinear storyline in the first of their two feature films. Following, Memento, Reservoir Dogs, and Pulp Fiction all the nonlinear storylines. Pulp Fiction got Quentin Tarantino, the academy award for the best original screenplay. The movie got 7 nominations in the Oscars including John Travolta, Samuel L. Jackson and Uma Thurman in their respective categories. Pulp Fiction won the Palme d'Or at the Cannes Film Festival 1994.
Pulp fiction's run-time is 2 hr 34 minutes. It falls in the genres of Crime/Drama. It was released on 14th October 1994. The major cast includes john Travolta as Vincent Vega, Samuel L. Jackson as Jules Winnfield, Uma Thurman as Mia Wallace, Phil LaMarr as Marvin, Frank Whaley as Brett, Bruce Willis as Butch Coolidge, Eric Stoltz as Lance, Angela Jones as Esmeralda Villalobos, Tim Roth as Ringo/Pumpkin, Amanda Plummer Yolanda, Honey Bunny, Maria de Medeiros as Fabienne, Quentin Tarantino as Jimmie, and Harvey Keitel as The Wolf. Let's take a look at some of the best pulp fiction movie quotes.
1. Zed's dead, baby. Zed's dead.
Killer Conversation by a Killer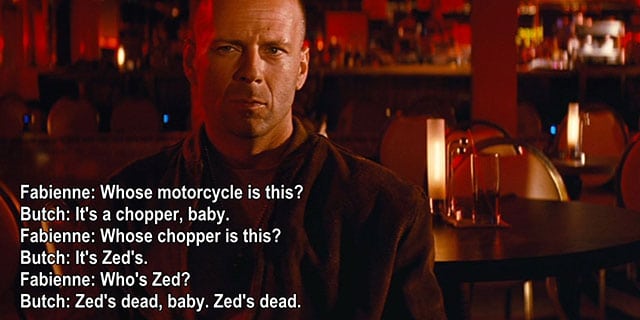 2. Jules: If my answers frighten you then you should cease
asking scary questions.
It is as simple as that baby!
3. Vincent: I don't mean any disrespect, I just don't like
people barking orders at me.
So, watch your mouth when you're talking to me!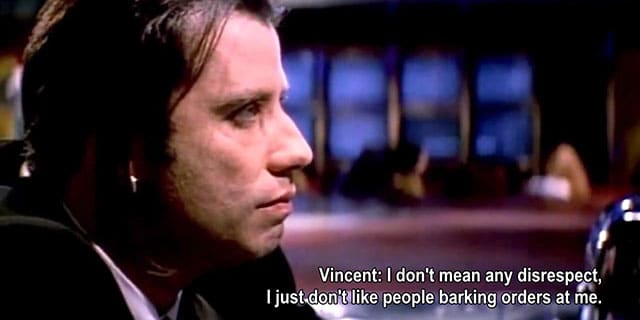 4. Vincent: Now, if you'll excuse me, I'm going to go home and
have a heart attack.
Imagine Tony stark saying this line, would perfectly suit him.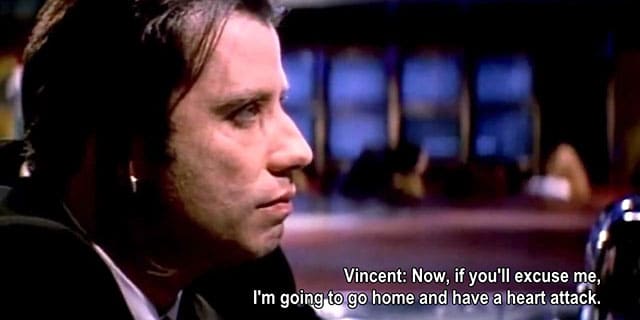 5. Marsellus: The night of the fight, you may feel a slight
sting. That's pride f*cking with you. F*ck pride. Pride only hurts, it never
helps.
Yeah! if you don't fear losing it, nothing can stop you!
6. The Wolf: Just because you are a character doesn't mean that
you have character.
Hands down!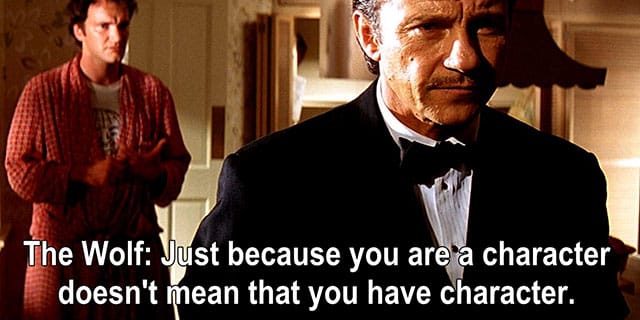 7. Mia: Three tomatoes are walking down the street- a poppa
tomato, a momma tomato, and a little baby tomato. Baby tomato starts lagging
behind. Poppa tomato gets angry, goes over to the baby tomato, and smooshes
him… and says, Catch up.
Mia's famous Joke from Pulp Fiction
8. Fabienne: I don't give a damn what men find attractive. It's
unfortunate what we find pleasing to the touch and pleasing to the eye is
seldom the same.
Yup! we remember the pot belly scene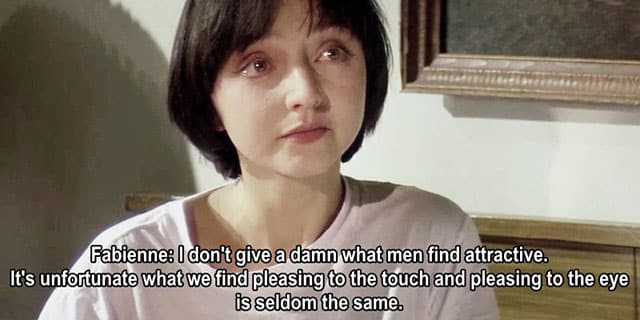 9. Lance: You gotta stab her once, but it's gotta be hard enough
to break through her breastplate into her heart, and then once you do that, you
press down on the plunger.
Vincent: What happens after that?
Lance: I'm kinda curious about that myself…
I am kind off curious about that too!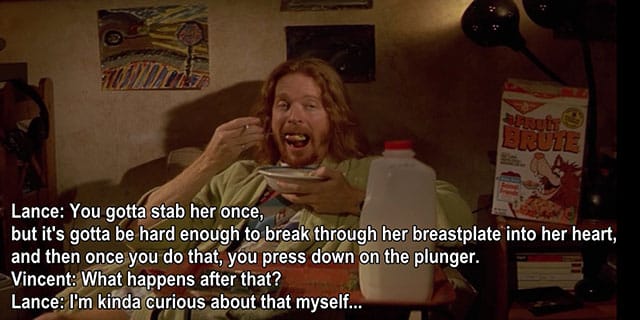 10. Lance: If you're all right, then say something.
Mia: Something.
That's legit in a way.
11. Fabienne: Any time of the day is a good time for pie.
I like some in the night!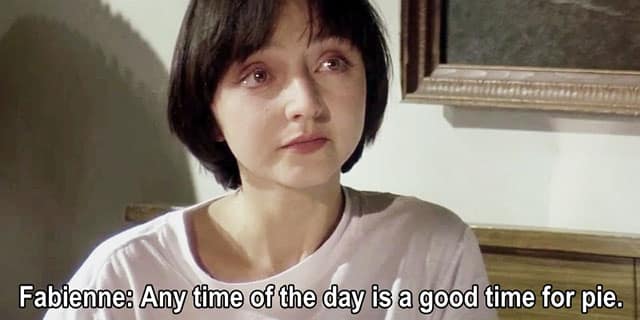 12. Esmeralda: So what does it feel like to kill a man with your
bare hands? It's a topic I'm very interested in.
What does it feel like to film a guy doing that? it's a topic I'm very
interested in.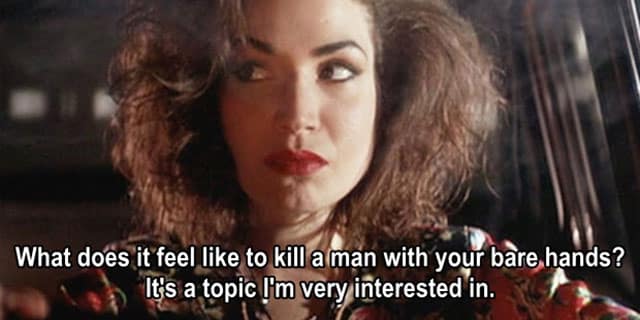 13. Jules: My name's Pitt, and your ass ain't talkin' your way
outta this shit.
Gotcha! you rhymed it!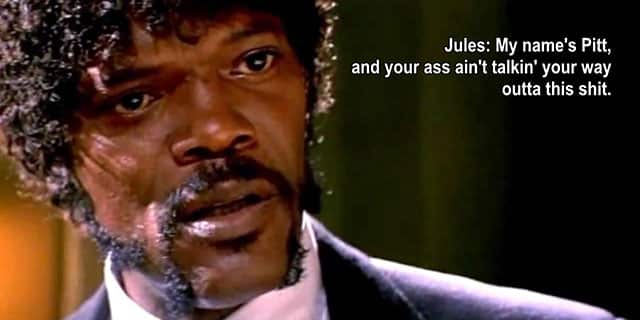 14. Mia: Don't you hate that?
Vincent: What?
Mia: Uncomfortable silences. Why do we feel it's necessary to
yak about bullshit in order to be comfortable?
Uncomfortable Silences – It's a strong phrase
15. Mia: That's when you know you've found somebody special. When
you can just shut the fuck up for a minute and comfortably enjoy the silence.
This is so true!
Visit Movie-Quotes section of
EscapeMatter
for more Movie Quotes