Schindler's List is a biography, drama and historical movie. Some of the Schindler's List movie quotes are really powerful. Here are the best ones.
History's forgotten chapter that's ugly from one side and beautiful on the other featuring Oskar Schindler is what the movie Schindler's list is about. The movie has monochromatic composition. I don't know whose decision that was and what was the reason, but it was a good decision, because it made the movie more intense and let it catch more depth. There's a lot we can learn from Oskar Schindler as a person and as a businessman. Read further for the best Schindler's list movie quotes.
Schindler's List is a biography, drama and historical movie. It was released in 4th February 1994. The run-time of the movie is 3 hrs 15 minutes. Liam Neeson played Oskar Schindler, Ben Kingsley played Itzhak Stern, Ralph Fiennes played Amon Goeth, Caroline Goodall played Emilie Schindler, Jonathan Sagall played Poldek Pfefferberg, Embeth Davidtz played Helen Hirsch. Here are the best Schindler's List movie quotes.
Also, see movie quotes from your favorite movies in the
Movie Quotes
section of
EscapeMatter.
1. Oskar Schindler: Power is when we have every justification to kill, and we don't.
When you do the unexpected, the totally unpredictable, that's when you make the world realize that you have the power to do so.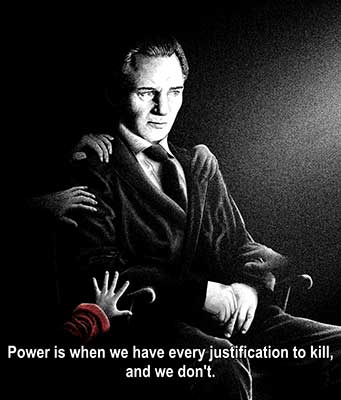 2. Oskar Schindler: Stern, if this factory ever produces a shell that can actually be fired, I'll be very unhappy
Unfortunately, world's most profitable industry in today's time is the arms and weapons industry. Seriously, when did we reach this far?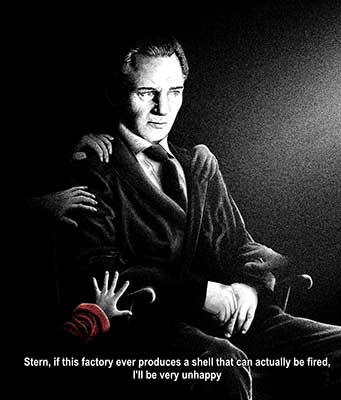 3. Oskar Schindler: My father was fond of saying you need three things in life – a good doctor, a forgiving priest, and a clever accountant. The first two, I've never had much use for.
Making money is one art, keeping it hidden from the others is another. That's what clever accountants are for.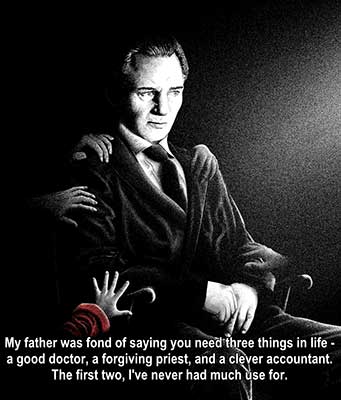 4. Oskar Schindler: They won't soon forget the name "Oskar Schindler" around here. "Oskar Schindler," they'll say, "everybody remembers him. He did something extraordinary. He did what no one else did. He came with nothing, a suitcase, and built a bankrupt company into a major manufactory. And left with a steamer trunk, two steamer trunks, of money. All the riches of the world."
He did make the difference and wrote his name in history forever. Oskar Schindler will be remembered for many reasons.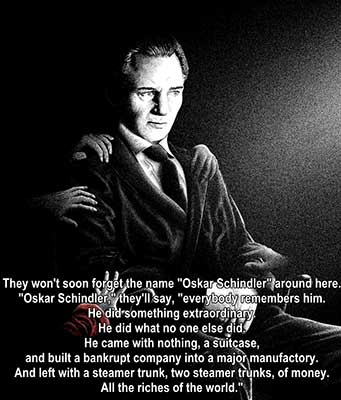 5. Oskar Schindler: In every business I tried, I can see now, it wasn't me that failed. Something was missing. Even if I'd known what it was, there's nothing I could have done about it because you can't create this thing. And it makes all the difference in the world between success and failure.
Emilie Schindler: Luck?
Oskar Schindler: [Schindler kisses his wife's hand and smiles] War.
The arms and weapons industry is flourishing because there is a WAR going on everyday. Without the war, they won't progress. Imagine the earth is not divided into country borders, would we be still needing weapons, guns, and bullets?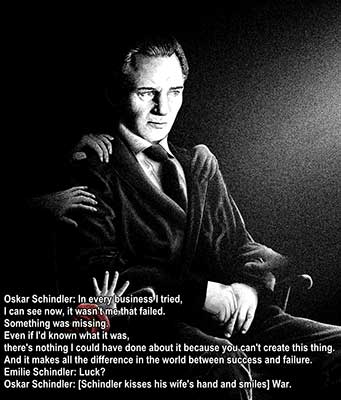 6. Itzhak Stern: It's Hebrew, it's from the Talmud. It says, "Whoever saves one life, saves the world entire."
It all comes down to this. Save life and you save the entire world for him. Learn to save, not to kill. This movie quote makes perfect sense with the first one in this list.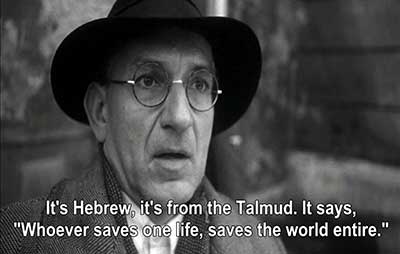 Did you like the Schindler's List Movie Quotes? Let us know in the comment section.
Which is your favorite quote from all the Schindler's List Movie Quotes?