The Godfather Series of movies are not less than a benchmark for the young film makers. They look at these movies like an institute that how simpl
The Godfather Series of movies are
not less than a benchmark for the young film makers. They look at these movies
like an institute that how simple yet convincing move making techniques can
result in an epic film. The level of acting delivered by all the actors is
incomparable.
Firstly, we will talk about The
Godfather 1
Movie's run-time is 2 hrs & 55
minutes. Directed By Francis Ford Coppola, it is based on the novel by Mario
Puzo. Mario Puzo also contributed to the screenplay along with Francis Ford
Coppola. The movie was released on 24th March 1972. It comes under
the genres Crime & Drama. Movie featured Marlon Brando as Don Vito Corleone,
Al Pacino as Michael Corleone, Robert Duvall as Tom Hagen, James Caan as Sonny
Corleone, Richard S. Castellano as Clemenza, Day Keaton as Kay Adams, Richard
Conte as Barzini, Al Lettieri as Sollozzo and John Cazale as Fredo. Here's the
Official Page
of the film.
1. Don Vito Corleone: A man who
doesn't spend time with his family can never be a real man
-That's Don Vito Corleone for you!

2. Don Vito Corleone: I'm going to
make him an offer he can't refuse.
-God! This line is evergreen. It can
never go out of fashion.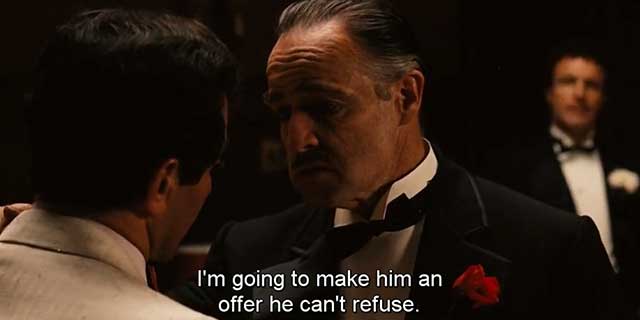 3. Tom Hagen: He never asks for a 2nd
favor when he has been refused the first!
-You know who "HE" is here. It's Don
Corleone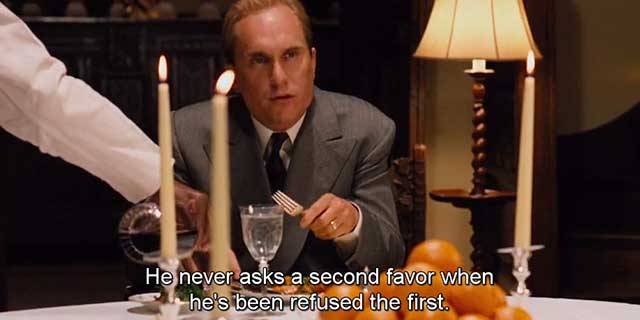 4. Michael Corleone: I'll make him
an offer he can't refuse!
-Michael Corleone, walking on
footsteps of his father!

5. Because family comes first!
Michael learned it from his Dad – Don Vito Corleone!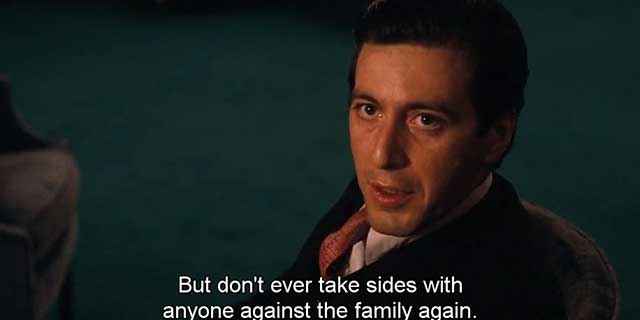 6. Micheal Corleone! He's just
getting started.